It's been a busy year here a flow14. A new month is as good a time as any to share what we've been up to in 2018. Here are a few of the projects we've recently launched:
Launched: HNC Living Foundation
The biggest launch so far – a new website for HNC Living Foundation. They're a nonprofit dedicated to helping head and neck cancer patients live life fully.
When we started talking about the project in November 2017, HNC Living was frustrated with their old site. It didn't effectively communicate what they did or who they helped. Key content was difficult to find. And thanks to poor search engine optimization (SEO), the site itself was difficult to find.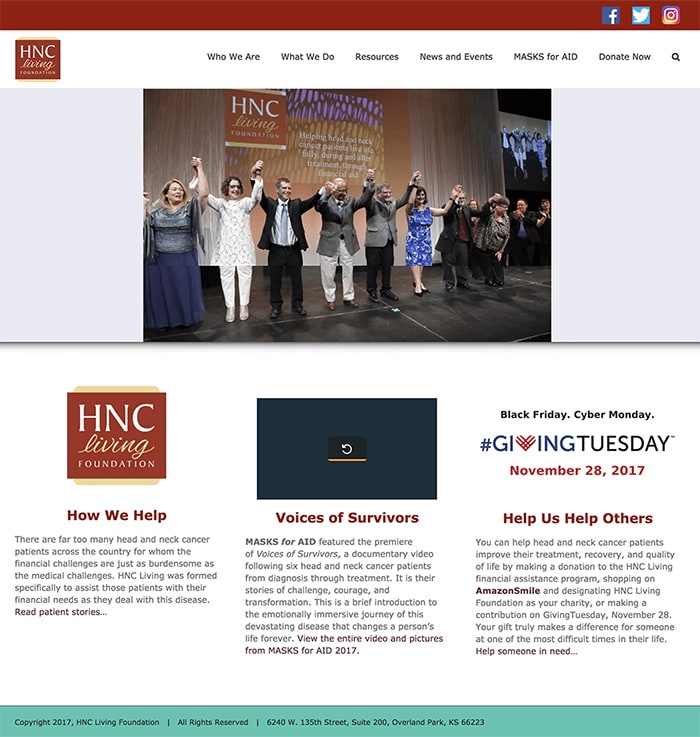 After learning about the Foundation's challenges and plans for the future, I formulated a plan to improve the design, content, organization, SEO, and more.
Throughout the project, the HNC Living team was wonderful to work with. They were collaborative, communicative, open to new ideas, and asked great questions.
There's a full recap of the project on flow14. But here are a few highlights:
Took full advantage of their premium WordPress theme, Avada, to create a visually impactful, mobile-friendly, and results-oriented user experience (UX).
Moved their WordPress-based website to a new web hosting provider, giving them a faster, more secure platform which will help support their growth for years to come.
Rethought and refined all of the site content, with an eye toward optimizing SEO. This drove great discussions on how HNC Living talked about themselves and helped focus their brand messaging.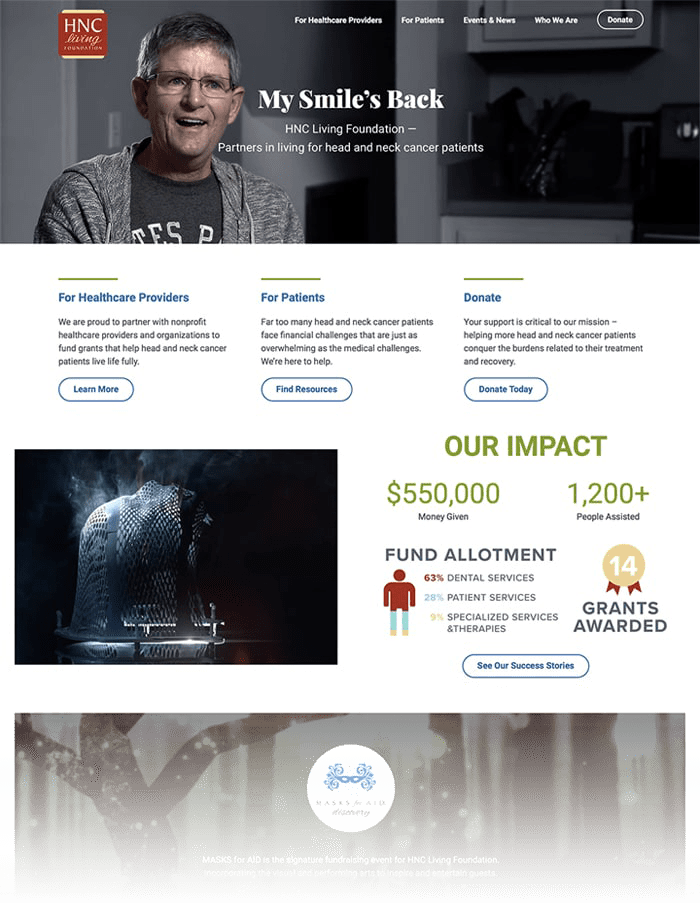 Since launching the new HNC Living website in April 2018, they've seen significant improvements in traffic to the site, SEO rankings, and donations. All of which helps them fulfill their mission – helping head and neck cancer patients live life fully during treatment and recovery.
Launched: Voter Information Tool
A smaller, though no less important launch, I created a tool for the Johnson County Democrats that helps them inform voters about candidates in key races across Kansas.
Using the Pods plugin for WordPress, I designed and coded a custom post template that allows their website editors to easily add candidate information, photos, and links. The content is all mobile-optimized, so visitors on the go can quickly access the information and head to the polls as informed voters.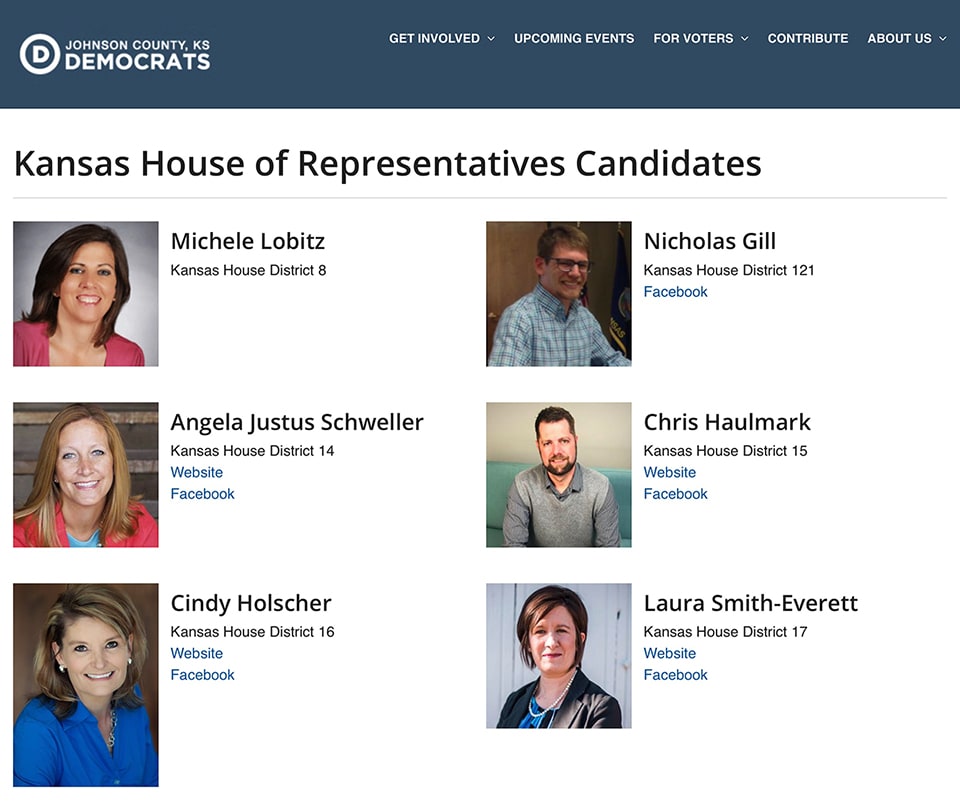 Launched: MEMEX
A personal project, MEMEX is a tool for browsing collections of visual inspiration. The goal of the project was to use a minimal amount of code to create a modern, easy-to-use platform for viewing my ever-growing collection of samples of branding, website design, photography, color schemes, and more.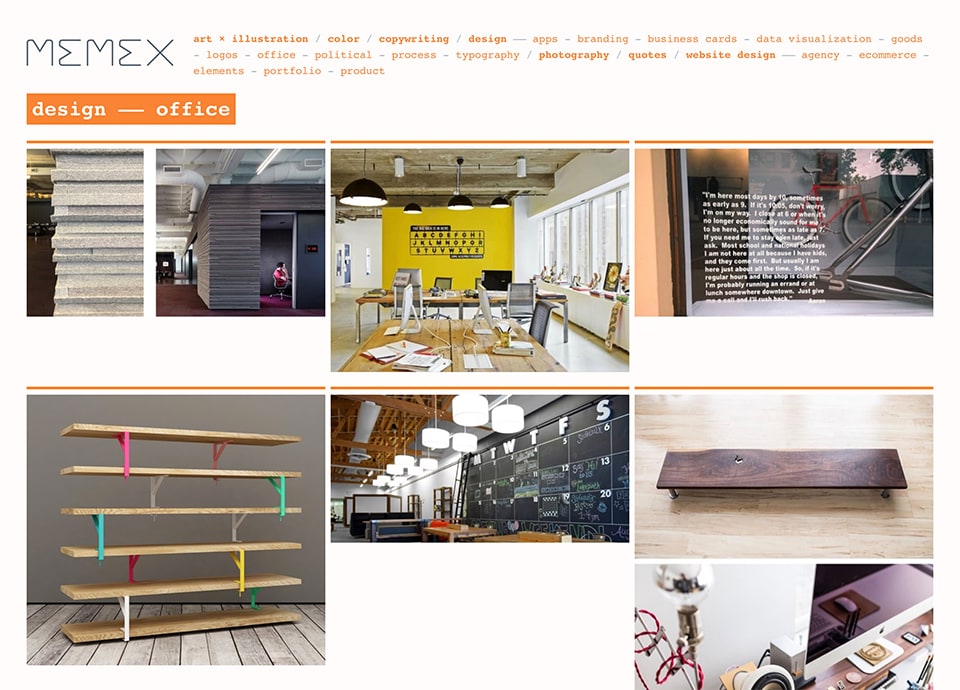 For me, this replaces platforms like Pinterest and various desktops apps that — while great in their own way – didn't meet my needs.
MEMEX is an open-source tool, so anyone can use it and it will continue to evolve and improve.
Launched: CSS GRIDkit
Another personal project, CSS GRIDkit is an open-source starter kit for CSS Grid Layout. It's simple and mobile-first with a Flexbox fallback for IE 10+.
CSS GRIDkit serves two purposes:
Helped me learn how to use CSS Grid, the future of layout for the web.
Provided a framework for easily converting some of my existing websites to CSS Grid. More importantly, it allows me to experiment with all-new layouts and design ideas that would have been impossible to create without CSS Grid.
Sites I've converted to CSS GRIDkit so far (each conversion took a day or two):
Launched: This blog
Last but not least, I launched this blog. Going forward, this will be the home for thoughts on design, advertising, and marketing trends impacting the types nonprofits, startups and growing businesses we work with a flow14.
The old flow14 blog, active from ~2006 – 2014, has been converted to a static website and has a permanent resting place at blog.flow14.com.
Next up…
There are more projects in the works, but we're always looking for new an interesting challenges. If you're part of a nonprofit or startup and need a new logo, brand, or website, get in touch today!